NCERT CLASS 7 SCIENCE CHAPTER 3 FIBRE TO FABRIC
Download Pdf
NCERT CLASS 7 SCIENCE CHAPTER 3 FIBRE TO FABRIC
Online Lecture
NCERT CLASS 7 SCIENCE CHAPTER 3 FIBRE TO FABRIC
Question Answers
Q. 1. Boojho is wondering why it hurts when someone pulls his hair but not when he goes for a haircut.  (page 28)
Ans. When someone pulls his hair, it hurts because its roots are connected to the skin which has sensation. But, during haircuts the tip of the hair is cut which is dead and does not have any sensation. Thus, hair cut does not hurt.
Q. 2. Boojho is wondering why a cotton garment cannot keep us as warm in winter as a woolen sweater does. (page 28)
Ans. Cotton clothes are thin and does not trap air. Wool is thicker than cotton and have spaces in which air traps. Air is a poor conductor of heat and so it prevents heat coming out of our body . Thus, wool gives better protection than cotton.
Q.3. Paheli wants to know if the cotton thread and silk thread are spun and woven in the same manner.  (page 31)
Ans. No
NCERT TEXTBOOK EXERCISE
Q.1.  You must be familiar with the following nursery rhymes:
   (i)  "Baa baa black sheep, have you any wool."
   (ii)  "Mary had a little lamb, whose fleece was white as snow."
Answer the following:
  (a) What parts of the black sheep have wool?
  (b) What is meant by the white fleece of the lamb?
Ans. (a) Basically the abdomen and back of the sheep have wool
         (b) The white fleece refers to the white hair of lamb that is used to make wool.
Q.2 The silkworm is : (a) a caterpillar, (b) a larva. Choose the correct option.
       (i)  a                          (ii) b
       (iii) both a and b  (iv) neither a nor b. 
Ans. (iii) both a and b.
Q.3. Which of the following does not yield wool?
       (i)Yak.                         (ii) Camel
       (iii)Goat.                     (iv) Woolly dog.             
Ans. (iv) Woolly dog
Q.4 what is meant by the following terms?
        (i) Rearing.   (ii) shearing  (iii) Sericulture
Ans. (i) Rearing : The bringing up and looking after the sheep is called Rearing.
(ii) Shearing : The fleece of the sheep along with a thin layer of skin is removed from it's body. This process is called shearing.
 (iii) Sericulture : The rearing of silkworms for obtaining silk is called sericulture.
Q.5 Given below is a sequence of steps in the processing of wool. Which are the missing steps? Add them .
Shearing, ………….., Sorting, …………….,   …………….,      ………………..,
Ans. Shearing, Scouring, Drying, Dying, Spining and Weaving.
Q.6.  Make sketches of the two stages in the life history of the silk moth which are directly related to the production of silk.
Ans. Fig. Adult silk moths.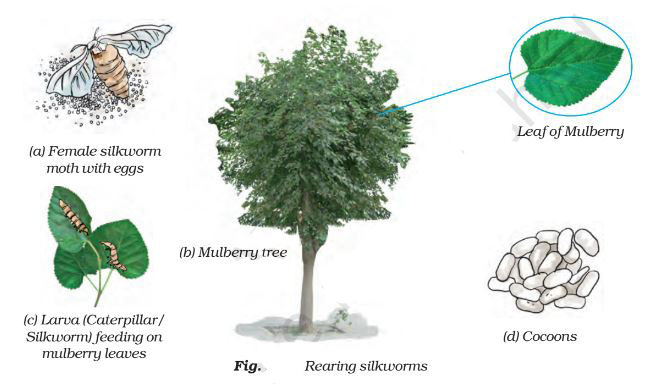 Q.7  Out of the following, which are the two terms related to silk production? Sericulture, floriculture, moriculture, apiculture and silviculture.
Hints : (i) silk production involves  cultivation of mulberry leaves and rearing silkworms.
(ii) scientific name of mulberry is Morus alba.
Ans. Sericulture and moriculture.
Q.8 Match the words of Column I with those given in column II
| | |
| --- | --- |
| Column I | Column II |
| (i) Scouring | (a) Yield silk fibres |
| (ii) Mulberry leaves | (b) Wool yielding animal |
| (iii) Yak | (c) Food of silkworm |
| (iv) Cocoon | (d) Reeling |
|   | (e) Cleaning sheared skin |
Ans . (i) (e),  (ii) (c), (iii) (b), (iv) (a)
Class 7  Science


Chapter 3. Fibre to Fabric
Chapter 4. Heat
Chapter 5. Acitds, Bases and Salts
Chapter 6. Physical and Chemical Changes
Chapter 7. Weather; Climate and Adaptations of Animals to Climate
Chapter 8. Winds, Storms and Cyclones
Chapter 9. Soil
Chapter 10. Respiration in Organisms
Chapter 11. Transportation in Animals and Plants
Chapter 12. Reproduction in Plants
Chapter 13. Motion and Time
Chapter 14. Electric Current and its Effects
Chapter 15. Light
Chapter 16. Water; a Precious Resource
Chapter 17. Forests; Our Lifeline
Chapter 18. Wastewater Story